About This Course – Sales
Sales, or rather the lack thereof, will make or break a company.  If you are not finding and closing the right customer, then you are not bringing in the cash to have a successful company.
This training path will help you create the process and the activity you need to find the prospect, close the sales and create a consistent revenue stream.
There are only two departments in your company that actually bring in money…. Sales and Marketing.
Our Sales modules will help you to create the following  strategies:
Completing the Business Puzzle – An overview of the 4 critical areas for a successful sales process
Sales Plan
A Goal Driven Sales Team…. even if you are the only member on the team
Lead Generation Plan
Sales Process
Increase your closing ratio
3 Ways to Increase Sales
Once you complete these modules and follow that plan that you have developed, you will increase your close rate which increases your sales and ultimately your profit!
Sales Module Overview
Completing the Business Puzzle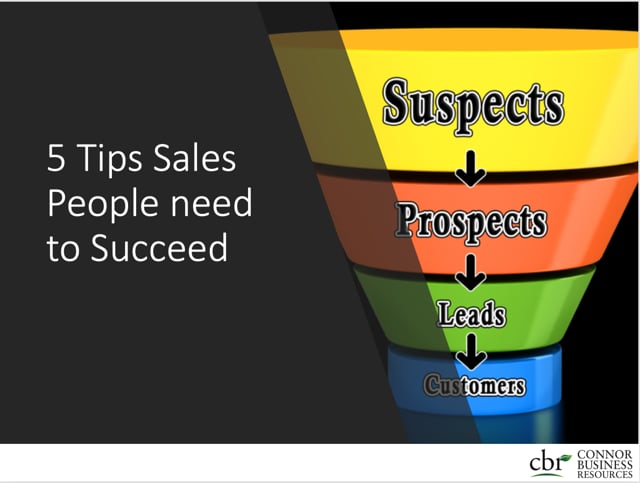 5 Tips Sales People need to Succeed
Sales Module Overview

Creating the right sales team and sales process is not easy. This module will give you an overview of how Connor Business Resources can help you create a sales team and process that will drive sales and profits into your business!

Completing the Business Puzzle

The 4 critical areas of a successful sales process are: Strategy, Financials, Customers & People. This video is an overview of what your company needs to implement in order to have a successful sales department.

5 Tips Sales People need to Succeed

In this module we will share 5 tips on how to Achieve Sales Success.
To continue learn about Financial Strategies, please consider becoming a member. If you are already a member, simply Log In